Adobe Photoshop Lightroom Classic 11.3.0.9 RePack by KpoJIuK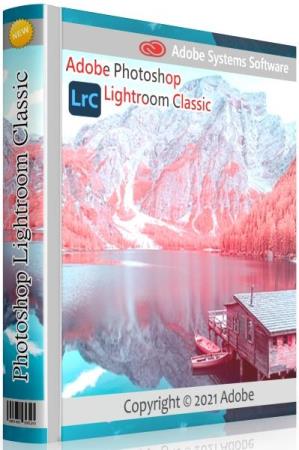 Adobe Photoshop Lightroom Classic 11.3.0.9 RePack by KpoJIuK
Interface Language: Multilanguage / Russian / English / Pre-activated / Platform: Windows® 10 (64-bit only) | File size: 953.91 MB
Adobe Photoshop Lightroom Classic is a graphic editor and organizer of your digital photos. Perhaps the best program for this functionality, in its class. The user can combine his selection of graphic files into one or several directories and easily navigate through them, process the selection and search for the necessary content. The graphic application is great for photographers who constantly deal with a large number of photos, as well as ordinary users who constantly take photos and post them on social networks.
In general, Lightroom is designed exclusively for photographers who are interested in processing and cataloging photos, and not integrating everything and everything. Another feature of the Photoshop Lightroom package is the division of the process of working with images into separate stages. Each of them has its own functional module with a corresponding set of tools and settings palettes.
Features of the Lightroom packageinclude not only a RAW converter and image processing tools, but also a powerful photo cataloging system, as well as tools for creating slideshows and web pages. Like many modern RAW converters, Lightroom uses the principle of non-destructive editing. This means that information about all operations and settings performed by the user is recorded in a service file, while the original image is saved unchanged. This approach allows not only to minimize the probability of irretrievable loss of the originals of processed images, but also makes it possible to create and print many different versions of the same image without the need to save the corresponding number of full-fledged graphic files that quickly eat up free space on the hard disk.
The redesigned Lightroom Classic app with improved performance lets you import photos, create previews, and instantly switch between Library and Develop modes.
The Edge Warp feature lets you stretch the edges of a merged panorama so you no longer have to sacrifice important image details.
With HDR Merge, you can easily create natural or fantastic images. Combine multiple shots with different exposures and get images with dynamic range.
New and improved features in Adobe Lightroom Classic:
• New name: Lightroom Classic
Your favorite photo editor has been given a new name, but it's still the industry's leading digital photo editing app for the desktop.
• Significant performance improvement
Experience performance improvements when launching your app, creating previews, switching from the Develop module to the Library module, moving sliders and brushes, and more.
• Speed ​​up image selection
The improved Embedded Preview process makes it faster to select images when importing.
• Range masking to fine-tune the selected area
Choose colors and the finest shades for local correction. Using the Local Adjustment brush, Radial or Graduated filters, you can create a coarse mask and then enhance the selected area with the new Range Masking feature set.
The program has five modules:
Downloading, cataloging and searching for photos (Library)
Correction of color and tonal parameters of images (Develop)
Creating a Slideshow
Print
Create Web Pages to Publish Image Collections to the Internet (Web)
Key features of Adobe Photoshop Lightroom Classic:
Intuitive environment with tools designed specifically for photographers.
Organize, rate images, and add copyright.
Create image presets.
Integration with Photoshop.
Adjust settings for multiple images with one click.
Cross-platform - support for 64-bit architecture, Mac OS and Windows platforms.
Support for DSLR video files - Interoperability with most digital SLR cameras makes it easy to control and organize still photos and videos.
Adding watermarks - embedding a logo (text or graphic watermarks) into the image, adjusting the size, position and transparency.
Quick Image Import - The import interface is easy to navigate, with clear visual indicators of where and how photos will be placed after import.
Perspective correction - the ability to non-destructively correct the perspective of the picture.
Flexible print settings. The tools let you drag and drop a single image or multiple images onto a page and then reposition and resize them.
Lens correction - correction of lens defects such as geometry distortion, chromatic aberration, vignetting, etc.
Upload to the web - the ability to upload images to Facebook, SmugMug and Flickr. When comments are added to pictures, these messages are instantly displayed in the Adobe Photoshop Lightroom library next to the corresponding photos.
Creation of a slideshow with musical accompaniment. Ready-made slide shows are easy to share using export (including in high resolution).
Photographing in conjunction with a computer - instant import and display of photos after capturing a picture with a camera.
Film grain simulation. The tools allow you to easily control the amount of grain that can be applied to an image to simulate the look of film
New Camera Support in Camera Raw 10
Canon EOS M100*
Casio EX-ZR4100
Casio EX-ZR5100
Fujifilm X-E3
Olympus OM-D EM-10 Mark III
Samsung Galaxy S8
Samsung Galaxy S8+
Sony RX0 (DSC-RX0)**
Sony RX10 IV (DSC-RX10M4)
Graphics processor acceleration requirements:
- AMD: Radeon GPU with DirectX 12 or OpenGL 3.3 support.
- Intel: Skylake or newer GPU with DirectX 12 support.
- NVIDIA: GPU with DirectX 12 or OpenGL 3.3 support.
- OpenGL 3.3 and DirectX 10-capable video adapter for GPU-related functionality.
- 1 GB Video RAM (VRAM). 2 GB of dedicated VRAM (4 GB recommended) for large, high-resolution monitors, such as 4K- and 5K-resolution monitors.
Build Information
1. Two-click installation
2. The Creative Cloud application does not litter in the system - the necessary minimum remains of it
3. All localizations are included, they can be changed in the program settings
4. The original installer is used, problems with other products are excluded
Command line options :
-S or -S1 - hide the window with the progress of unpacking temporary files
-S2 - show a window with the progress of unpacking temporary files
-S or -S1 or -S2 - required parameter
/XPATH="PATH" - specify the installation location. Default: C:\Program Files\Adobe\
Please note that due to the peculiarities of the official installer, "Adobe Lightroom Classic" will be added to the selected path, so in most cases it is worth choosing C:\Program Files\Adobe
/XVCR - install Visual C++ Redistributable Package (required for the program to work)
Example: INSTALL.EXE -S /XPATH="C:\Program Files\Adobe" /XVCR
Buy
Premium
From
My Links
To
Get
Resumable
Support
and
Max
Speed
The minimum comment length is 50 characters. comments are moderated