Adobe Character Animator 2022 22.3.0.65 RePack by KpoJIuK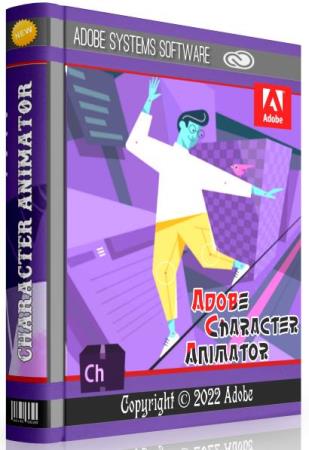 Adobe Character Animator 2022 22.3.0.65 RePack by KpoJIuK
Platform: Windows® 10 (64-bit only) | Interface language: Multilanguage / Russian / English | Pre-activated | File size: 1.13 GB
Adobe Character Animator
- Animates characters in real time according to your facial expressions and movements. When you smile or nod your head, your character does the same. It happens so fast that you can even stream video animations in real time. Create a character and animate it with your own movements.
Create a character in a few seconds.
Turn any piece of art into an animated character with a webcam and the new Characterizer app powered by Adobe Sensei artificial intelligence. Create characters based on built-in character templates from Character Animator or by importing images from Illustrator or Photoshop.
Show your best side.
Easily animate the character with your own movements. Using a webcam and microphone, Character Animator reads your facial expressions—lip, eye, and other facial expressions—to animate your character in real time. Your surprise, joy and anger are reflected in your character.
Animation for legs, arms and head.
Reviving a character is not difficult at all. Control gestures (such as waving) using a keyboard or MIDI device. Movements can be saved as buttons - they are easier to remember than command keys.
New features of Adobe Character Animator:
Create a stylized animated character based on artwork, webcam image or Characterizer using Adobe Sensei artificial intelligence technology.
• Replays
Pick the best moves and create triggers that can be quickly used in real time or during post-recording. You can even adjust the snooze length to suit the scene.
• Magnets
Now your character can throw, drop, pick up objects, as well as interact with other characters (for example, holding hands).
• Additional physics properties to create more flexible animations
Adjust the softness settings in the physics area to make the character look more like a traditional cartoon animation.
• Improvements in walking
New tags for the right and left shoulder and hips allow you to improve the image of a character drawn in three quarters when walking.
• Version history bookmarks
Add bookmarks while working on a project to go back to previous versions and keep track of changes.
• And much more...
Other updates and enhancements include improved automatic speech synchronization with Adobe Sensei technology, the ability to import SVG and EPS files, improved performance, and a redesigned workspace bar.
Benefits of Adobe Character Animator 2022
- Real-time face and body tracking
You can bring your character to life Use your own facial expressions, movements and voice to animate. Using a webcam and microphone, Character Animator revolutionizes real-time face and body tracking animation powered by Adobe Sensei.
- Automatic speech synchronization
Combine a mouth shape image with an imported audio or recorded voice to produce automatic lip sync based on Adobe Sensei. There is also an easier way to make the puppet speak: use the Nutcracker Jaw behavior to automatically move the lower part of the puppet's mouth as it speaks.
- Quick and easy character creation
Turn any piece of art into an animated character in multiple ways. Try the built-in puppet templates, create and import images from Adobe Illustrator or Photoshop, or try the Characterizer powered by Adobe Sensei to turn your face into a stylized animated character in minutes.
- Behavior, triggers and workflow integration
Actions such as walking, body movements, and eye contact give you control and bring your puppet to life. Triggers allow you to change your character's expressions or gestures and assign them to keyboard shortcuts. Incorporate the Character Animator project into existing animation project workflows. Bring your animation directly into After Effects or Premiere Pro via Dynamic Link, or export directly to Adobe Media Encoder.
Build Information
1. Two-click installation
2. The Creative Cloud application does not litter in the system - the necessary minimum remains of it
3. All localizations included. Selection only in graphical mode, otherwise - system language
4. The original installer is used, problems with other products are excluded
Command line options :
-S or -S1 - hide the window with the progress of unpacking temporary files
-S2 - show a window with the progress of unpacking temporary files
-S or -S1 or -S2 - required parameter
/XPATH="PATH" - specify the installation location
/XVCR - install Visual C++ Redistributable Package (required for the program to work)
Example : INSTALL.EXE -S /XPATH="C:\Program Files\Adobe" /XVCR
Buy
Premium
From
My Links
To
Get
Resumable
Support
and
Max
Speed
The minimum comment length is 50 characters. comments are moderated