Adobe After Effects 2022 22.3.0.107 RePack by KpoJIuK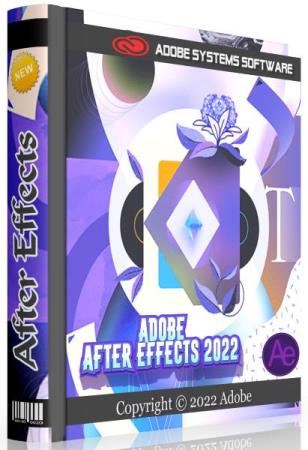 Adobe After Effects 2022 22.3.0.107 RePack by KpoJIuK
Platform: Windows® 10 (64-bit only) | Interface language: Multilanguage / Russian / English | Pre-activated | File size: 1.4 GB
Adobe After Effects is the leading animation and creative compositing application to bring your wildest ideas to life. Design movie titles, intros, and transitions. Start a fire or make it rain. Bring characters and logos to life. Nothing is impossible for After Effects. Animators, designers and CGs choose After Effects to create motion graphics and visual effects for movies, TV shows, video and the web.
• Dynamic titles. Spinning words. Rolling lettering.
Create animated titles, opening credits and captions. Start projects from scratch or use pre-made animation templates available in the app. After Effects has many options for creating moving text, including rotating, swiping, and sliding.
• Stunning effects. Amazing results.
Combine videos and images to create an image of a UFO flying through the sky, blur logos or create explosions - the possibilities are endless. We offer hundreds of effects to achieve the desired result, including adding fog and changing colors to simulate snowfall.
• Creativity in motion.
Bring anything to life, including logos, shapes, and cartoons, with keyframes. Add sound to enhance the effect.
• Full compatibility.
After Effects is fully compatible with other Adobe applications. Edit compositions and instantly view them in Premiere Pro with Dynamic Link. Import your work from Photoshop, Illustrator and Audition. Use the Team Projects tool to interact with editors, no matter where they are.
Features of Adobe After Effects
• Animation driven by data
Bring animated graphics such as charts and graphs to life with imported data. Third party partners can create data based on their own diagrams, and other users can use this data to create animated graphics.
• Immersive effects
Add virtual reality effects to 360/VR video without unwanted pole distortion and defects along the back joint. Effects available include Gaussian blur, color gradients, chromatic aberration, denoise, digital noise, glare, fractal noise, and sharpening.
• Subtitles and graphics for immersive videos
Instantly format graphics, text, images or video clips to display correctly in 360 video.
• VR Comp Editor
Now it is not necessary to work directly with 360/VR footage. You can edit footage in the viewer window in the same perspective as when playing video in a headset or smartphone.
• Cubemap extraction
Convert 360 footage to Cubemap 3D to track motion, remove objects, add motion graphics, visual effects, and more.
• Create a VR environment
Automated creation of the necessary compositions and camera positions allows you to create a 360/VR development environment for infographics, animated sequences, abstractions, and more.
• VR converter
Easily switch between editing formats and export to various formats, including Fisheye, Cube-Map Facebook 3:2, Cube-Map Pano 2VR 3:2, Cube-Map GearVR 6:1, Equirectangular 16:9, Cube-Map 4 :3, Sphere Map and Equirectangular 2:1.
• VR sphere rotation
Edit and rotate 360 ​​video footage to align horizons, viewpoints, and more.
• Projecting a VR sphere onto a plane
See your footage in perspective almost the same as if you were wearing a headset (even if you don't have one).
• Expressions for masks and points of shapes
Completely new possibilities of animated graphics. Link shape masks and points to other masks, shapes, or layers using expressions. In this case, you don't have to use frame-by-frame animation. Work with one or more points, manipulators, and new data-driven features.
• Improved 3D pipeline with Cinema 4D Lite R19
Work in 3D right in After Effects with Cinema 4D Lite R19. Use an improved viewport with enhanced support for OpenGL and Cinema 4D Take System, support for Parallax Shader, Vertex Color and BodyPaint Open GL, and the ability to import FBX2017 and Alembic 1.6 formats.
• Performance improvements
GPU processing of layer transformations and motion blur.
• Assigning keyboard shortcuts
Quick visual search and customization of keyboard shortcuts.
• Convenient start screen
The new intuitive start screen speeds up the creation of projects and the transition to editing. Links to manuals are also available on this screen.
• Autosave group projects
Now you will always know when your projects were automatically backed up. You can easily revert to a previous autosaved version or create a new team project based on it.
• New font menu
Use the font preview feature and choose the right fonts using filters and search.
• Motion graphics templates on Adobe Stock
Sell ​​your Motion Graphics templates on Adobe Stock or share them with Premiere Pro users who can work with most templates without installing After Effects.
• And much more...
Optional: export animated GIFs to Mac via Adobe Media Encoder, improvements to MENA and Indian texts.
System Requirements:
- Processor: Multicore Intel processor with 64-bit support
- Operating system: Microsoft Windows 10 (64 bit) versions 1703 (Creators Update) and later
- RAM: 8 GB minimum (16 GB recommended)
- 4 GB of GPU VRAM
-Hard disk space
- 5GB of available hard-disk space; additional free space required during installation (cannot install on removable flash storage devices)
- Additional disk space for disk cache (10GB recommended)
- Monitor resolution 1280x1080 or greater display resolution
Build Information
1. Two-click installation
2. The Creative Cloud application does not litter in the system - the necessary minimum remains of it
3. All localizations included, selected during installation.
Note: English can be enabled at any time by creating a text file ae_force_english.txt in the My Documents folder
4. The original installer is used, problems with other products are excluded
Command line options :
-S or -S1 - hide the window with the progress of unpacking temporary files
-S2 - show a window with the progress of unpacking temporary files
-S or -S1 or -S2 - required parameter
/XPATH="PATH" - specify the installation location
/XVCR - install Visual C++ Redistributable Package (required for the program to work)
: INSTALL.EXE -S /XPATH="C:\Program Files\Adobe\After Effects" /XVCR
Buy
Premium
From
My Links
To
Get
Resumable
Support
and
Max
Speed
The minimum comment length is 50 characters. comments are moderated