Create Elegant Titles Animation in After Effects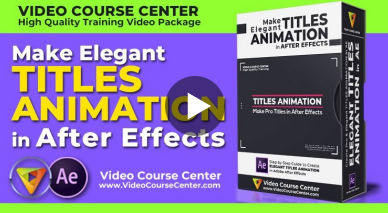 Create Elegant Titles Animation in After Effects
Home Page
https://www.skillshare.com/classes/Create-Elegant-Titles-Animation-in-After-Effects/150215368
Genre / Category:
After Effects Tutorials
File Size :332MB
Product Details Welcome to another really great after effects tutorial from Video Course Center.
In this class, we're gonna learn how to create elegant title animation in Adobe After Effects CC and you will learn:
How to design shapes in After Effects CC.
How to import footages into Adobe After Effects CC.
How to create and modify keyframes to create smooth titles animation.
How to use Mask Technique to design professional text animations.
How to create and animate 3D Texts in Adobe After Effects
How to render your titles with Alpha Channel to use it in Adobe Premiere Pro, Final Cut Pro,.
How to add your title animations to your movies.
This class is very easy to follow and even if you are new after effects user you will be able to follow along!
This course is appropriate for 
all After Effects users (from Novice to Expert).
Do you want to be able to create your own professional looking titles animation?

Do you want to create cool animated lower thirds and titles on your own instead of paying someone else to do it for you?

Do you want to learn how to create professional title animation packages and sell them in After Effects Marketplaces?

The minimum comment length is 50 characters. comments are moderated