Learn to Make Creative Self Portraits in 3 Styles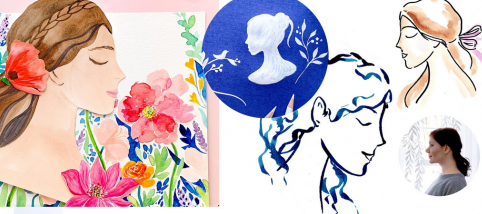 Learn to Make Creative Self Portraits in 3 Styles
Home Page
https://www.skillshare.com/classes/Learn-to-Make-Creative-Self-Portraits-in-3-Styles/1494175574
Genre / Category:
Drawing & Painting
File Size :1.7GB
Product Details Hello everyone and welcome! I am so happy to see you here and I want to thank you for inviting me to be a part of your art journey. In this class we will learn how to create self portraits using different art techniques.  Did you know that Self Portraits don't have to be realistic or hard to create? Self portraits can be colorful, fun and reflecting artist's style, values and believes. In this class we will explore step by step how to make a portrait. And I am saying "make" because besides painting we will be drawing, cutting and playing with different media. At the end of the class you will know different creative techniques to create stylized portraits.
I hope that the styles I will show you, will inspire you to draw, paint, cut and glue, your own portrait or maybe even come up with your own way of creating a portrait.
This class is designed for beginners and no previous experience is necessary to create a portrait, it is much easier than it looks.  In the "Project and Resources" of the class you will find a list of supplies, useful links and a printable file with elements for the collage portraits.
The minimum comment length is 50 characters. comments are moderated