Tropical Flowers In Procreate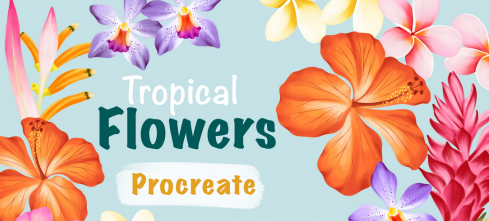 Tropical Flowers In Procreate
Home Page
https://www.skillshare.com/classes/Tropical-Flowers-In-Procreate/493036655?via=search-layout-grid
Genre / Category:
Drawing & Painting
File Size :503MB
Product Details 1. Hibiscus
2. Plumeria
3. Heliconia
4. Orchid
5. Red Ginger
These flower illustrations can be used as an element in many ways, following are few examples:
1. Surface Pattern Designs
2. Art Prints
3. Stickers
In this class you'll learn how to:
– Illustrate 5 Tropical flowers in Procreate
– Use reference image to add details to the flowers
– Ways to recolour these flowers
– Techniques you can apply while illustrating any flower of your choice!
Who this class is for:
Intermediate Level: Anyone who knows the basics of Procreate


You'll need:
An iPad

The drawing app, Procreate

An Apple Pencil or other stylus

The minimum comment length is 50 characters. comments are moderated