Loose and Repetitive Watercolor Patterns – A 10 Day Journey with Art Therapy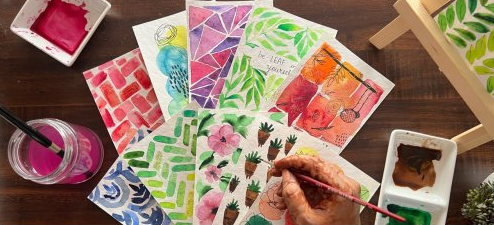 Loose and Repetitive Watercolor Patterns – A 10 Day Journey with Art Therapy
Home Page
https://www.skillshare.com/classes/Loose-and-Repetitive-Watercolor-Patterns-A-10-Day-Journey-with-Art-Therapy/1653656193
Genre / Category:
Drawing & Painting
File Size :302MB
Product Details Pablo Picasso once said, "Art washes away from the soul the dust of everyday life." It's no surprise, then, that many people around the world use art as a means to deal with stress, trauma and unhappiness – or to just find greater peace and meaning in their lives.
In this class  we are going to explore one such Art therapy technique which is loose and repetitive watercolor patterns . When I began to explore painting such loose patterns I could feel the freedom in my brush strokes while creating because the every outcome will be different and unique.
While exploring repetitive brush strokes it helped me in improving the muscle memory and helps building patience through the pattern. Doodling randomly on the created patterns helps you to calm your mind and often reflects your inner thoughts out on paper.
In this class we will be exploring art therapy through different styles in 10 Days and we won't be worrying  about the outcome as that is something that will be different for each of us.
I am sure joining into this class will give you immense happiness everyday and help you be relaxed with yourself and let the calmness reflect on you
The minimum comment length is 50 characters. comments are moderated