Block Print to Pattern with Adobe Illustrator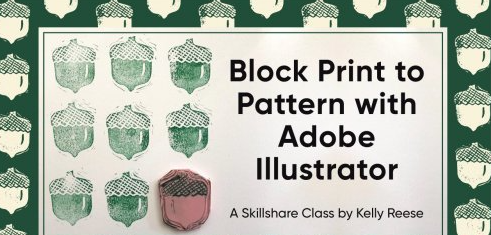 Block Print to Pattern with Adobe Illustrator
Home Page
https://www.skillshare.com/classes/Block-Print-to-Pattern-with-Adobe-Illustrator/1021043994
Genre / Category:
Drawing & Painting
File Size :244MB
Product Details Make your very own pattern from artwork you create! In this beginner-friendly course, illustrator and surface pattern designer Kelly Reese will walk you through creating a fun and easy block print with simple materials. Then you'll go a step further and turn your block print into a seamless, repeating pattern in Adobe Illustrator!
This class is all about experimenting and having fun while learning something new. You'll learn how to carve and print a block as well as how to digitize your printed motifs with Adobe Illustrator.
What You'll Learn
Create Your Own Block Print. Learn about materials and techniques for creating a simple block print.

Capture Your Print. Explore scanning or photographing your block print.

Digitize Your Print. Learn how to turn your print into vectors with Adobe Illustrator.

Make a Pattern! Walk through the steps to create a technical repeating pattern from your vectorized motifs.

This is a beginner level course. Adobe Illustrator experience isn't required and the full process to complete your project in Illustrator will be demonstrated. If you want to dive deeper after this class I recommend the myriad of courses on Illustrator you can find here on Skillshare!
The minimum comment length is 50 characters. comments are moderated