Bright Mood DSLR Food Photography - Learn how to Create Beautiful Bright Mood Photos from the expert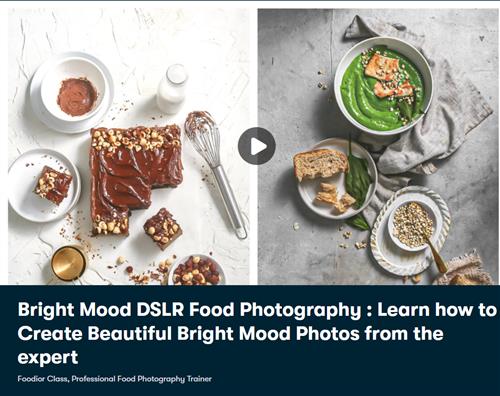 Bright Mood DSLR Food Photography - Learn how to Create Beautiful Bright Mood Photos from the expert
Duration: 1h 28m | Video: .MP4, 1280x720, 30 fps | Audio: AAC, 48 kHz, 2ch | Size: 538 MB
Genre: eLearning | Language: English
Bright Mood DSLR Food Photography : Learn how to Create Beautiful Bright Mood Photos from the expert !
The Best tutorial to Shoot LevitationFood Photographyin your home
In this course you'll learn all about DSLR Food Photography especially for Bright Mood theme. We'll explain to you step by step to create an impressive bright mood food photography, start from introduction of camera & lighting, preparation before doing photoshoot, arrangement the scene, to photoshoot session so you can compose a very very beautiful bright mood food photos in your home.
Hi there, my name is Berry Phann, a Professional Food Photographer Trainer from Indonesia. At my first five years, I was shoot food and beverage with all my own creation everyday. Now, you can see that my works have been published globally! Not only in Indonesia, but the works have been jumping around Asia Pacific, likeSouth Korea, Japan, China, Singapore, Malaysia, Cambodia, and many else. More than 2000 projectshave been finished.More than 5000 clients have been handled. JUST IN 4 YEARS!
The 7 Steps to Create Beautiful DSLR Bright Mood Food Photography
INTRODUCTION :We'll teach you to learn about all the lighting we use, and all the lecture that will be discussed in this course.
PROPS & BACKGROUNDS :Learn the fundamentals of shooting with your DSLR Camera. We'll teach you how to focus, balance, and use your DSLR to get the perfect food photography shot!
LIGHTING AND CAMERA SETTING :Learn the principles of how to set the very beautiful bright mood food photography scene by setting the right lighting with DSLR
PROPS & BACKGROUND SETTING :Learnhowto chooseprops & backgroundwithout dishing out tons of cash!
BONUS LEVITATION SHOT :We'll teach you all the tips in setting the movement of levitation food photography to create a great shot
SHOOTING:Learn how to get the beautiful levitation food photos using DSLR Camera
EDITING - WILL BE UPDATED SOON ON MAY 2022 :we'll take you through our favourite steps of editing session to make your finished photo POP
THIS AMAZING COURSE IS CREATED FOR YOU IF...
You are a food photographer who wants to learn how to take better levitation food photography and level up your skills in levitation food photos!
Get it now!
I'll see you in class!
Homepage
https://www.skillshare.com/classes/Bright-Mood-DSLR-Food-Photography-Learn-how-to-Create-Beautiful-Bright-Mood-Photos-from-the-expert/1827932592
Buy
Premium
From
My Links
To
Get
Resumable
Support
and
Max
Speed
Links are Interchangeable - No Password - Single Extraction
The minimum comment length is 50 characters. comments are moderated